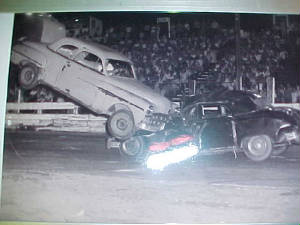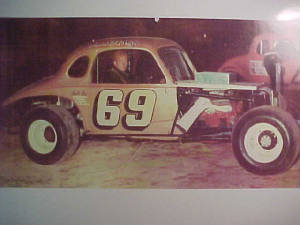 John Bate ran very well in this car winning the feature 3 weeks in a row
Every kid's favorite, Yonkers Tiny Milano
Johnny Popick leads Jack Zakian and Jack Duffy
TThrill Show dive bomber crash!!
Typical Jalopy roll over!!
George Kaufman, all time feature winner, 45 wins
Jack Duffy with Jim Hoffman's #6
Johnny Kronyak driving Jack Ruggerillo's 5Jr
Jake Goodski of Elizabeth N.J. 1961 Track Champion
Bruno Brackey's 71 is on display here at the museum!!
An admiring fan presents Johnny Lee with a model.
A replica of Howie Brown's #8 is part of the museum.
Howie Brown representing Weissglass at ROC
Jake Goodski edges out Howie Brown for the win!!
George LeBlanc's #100+. 32 Plymouth Coupe
Howie Brown's 1959-1960 Track Champion.
Showcase full of trophies from the 50's and 60's
Dennis Dibrizzi at Middletown N.Y.
Tiny Milano's helmet, models & photos